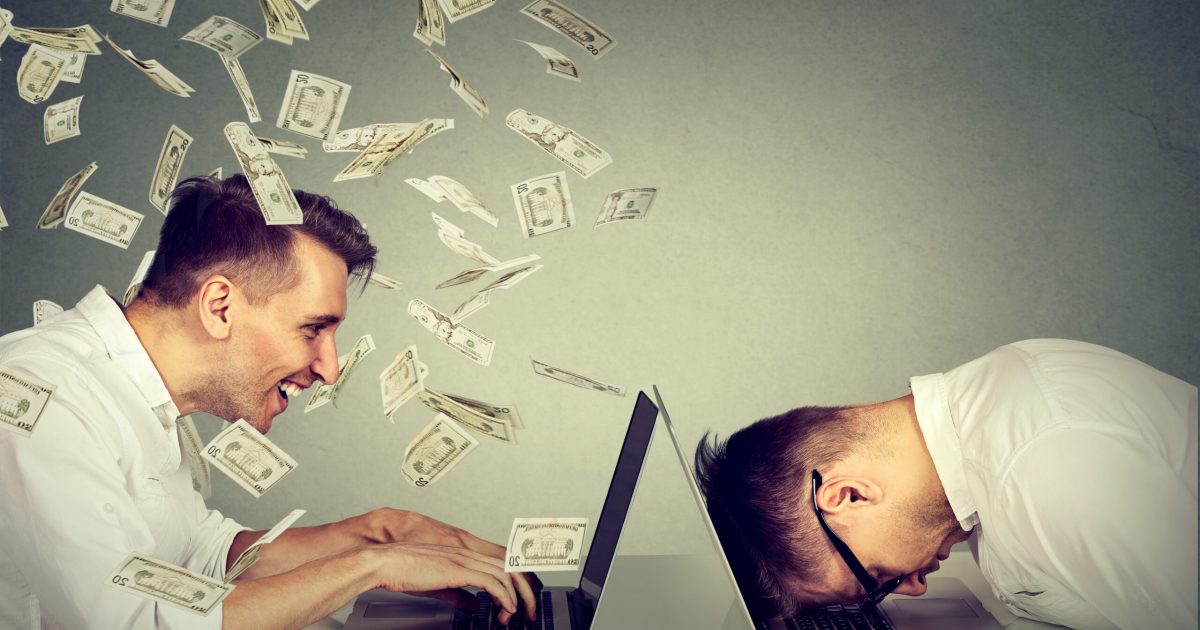 Introduction
One of the most commonly asked questions about the job selection process is "how do I negotiate the best salary?".  Well, the first step is to take control early and ensure you're not put at a disadvantage.  Don't be shy, in fact, employers expect to negotiate and will respect you for being confident, informed and persuasive.  Often, you will be demonstrating skills core to the role or talents that will benefit the company in the future.  In this post you'll learn some tips for negotiating salary, how to prepare and what common mistakes to avoid.
Don't Sabotage Yourself
Don't compromise your position at the negotiation table. The later in the selection process you talk money the better, so at the beginning, dealing with recruiters and online application forms, follow these rules:
If you're asked about salary expectations, respond with something like "I'd like to understand the role better before discussing salary".
If you are asked about your current salary a great response is "confidential due to employment contract", no one can argue with that!
If you have to name your price, start with something near the bottom of your range for base salary but add "+" (e.g. $100k+). There is a huge amount of room to move from here.
Recruiters are your friends (they're getting 10-20% of your salary as their commission) but they're also the first one to try and pin you down to a figure. They have to provide their client with your CV, cover letter, salary expectations and current earnings. They'll put you forward at a salary they know you can get.  No job for you – no commission for them.
Here are some great responses to avoid getting pinned down by recruiters:
Can you please tell what the employer said about the salary and package?
Before I get into any negotiations, I need to know what the employer is expecting to pay.  I have wasted time before with an employer who wasn't willing to compensate accordingly.
Do you mind telling me if you have recruited for this employer before? …have you filled X roles before? …in your experience what do you think this role is worth?
Homework
If you shoot for a heavily inflated salary you risk looking greedy or out of touch.  Look at industry reports to estimate market rates – Seek, Hudson, Hays and Greythorn are excellent sources.
Think very carefully about the ideal package your want.  It's not all about money.  Financial benefits are not all about salary.  Consider perks like bonuses, commissions, stock options, parking, phone, salary packaging, expenses and allowances.  Consider work-life balance and family; do they offer flexible hours and remote working?
The Pointy End – Negotiating Salary after the Job Offer
"You do not get what you want. You get what you negotiate." – Harvey Mackay
Well done!  You've made the short list, you've landed the interview and you haven't had to name your price yet!  Now what?  Get the employer to put their offer on the table – everybody knows that being the first one to name a figure puts you at a disadvantage. Easier said than done, right?
As well as getting ready to answer all the commonly asked questions in interviews, you should be preparing to steer the conversation in your favour when talking money.  Your position is improved when negotiating the offer at the end of the selection process.  Why?
Because they like you and they want to work with you.
Because they know they can get you.  You've shown genuine interest, you're enthusiastic and motivated.  All they have to do is close the deal.
Put the ball back in their court.  If you're asked during the selection process what your number is, great responses include:
I have a range in mind, but I'd need to understand the other benefits and opportunities with this role.  What is the salary range for this role and are there other benefits on offer?
I've done some market research, and it looks like this salary range for this role is around X to Y – is that your expectation for this position?
Say OK, not yes.  OK means you understand but haven't agreed to their terms.
Qualifying The Offer
Understand any offer thoroughly. It's not just money we're talking about. Today's job seekers are seeking work/life balance and dynamic remuneration arrangements.
Breakdown superannuation, salary and variable financial benefits.
Drill into the structure of variable pay (bonuses, options, commissions etc.).
Clarify non-financial benefits including; remote working, flexible hours, travel, leave arrangements, and development opportunities.
If it is a great offer and what you set out to achieve, take it! Although uncommon, it is possible to blow it at this point by seeming greedy or appearing to negotiate just for the sake of it.
How To Negotiate A Higher Salary: The Golden Rules
Good deals take time; the party in the biggest rush is at a disadvantage.
The deal is never closed until the ink has dried – get a written offer.
When giving a range for salary, be prepared to be offered the lowest number.
Understand their constraints. There are many valid reasons why they may not be able to match your expectations.
Never give ultimatums and stay in the running – they might say no today but in business, situations change daily.
Always smile, be polite and never show frustration.
Power Plays
OK, it's time to play hardball. You know you're worth it. If you're really not getting what you want from that offer, this positive dialogue can help.
That's less than my expectations. What is the top of the range you can offer to an exceptional candidate?
I am worth the top end of the market because…
Obviously, if I don't meet your expectations before the end of the probation period you can let me go.
Your competitors are offering more and I expect at least X. Can you beat that?
Salary Negotiation Questions
The scene is set. You landed the job. You played your cards right and your new employer has put an offer on the table first. Before you summon your inner Trump and step up to hammer out that killer deal, make sure you understand exactly what's on offer.
Once you get the offer, here are five focus questions to ensure you're well informed and ready to get the best deal.
Salary Negotiation Question 1: What are the Numbers?
Know your numbers. It's stressful landing a new job and money is a delicate topic – it's easy to misunderstand or make assumptions. When an employer says they'll offer $100k are they really offering:
$100k base salary plus superannuation (super).
$91k base salary plus super.
$76k base salary, plus a $15k bonus for meeting all targets, plus super.
In these three variations, there could be a massive $300 a week difference in fixed, take home pay.
The make-up of a total remuneration package consists of:
Super (minimum employer contribution is 9.5% of earnings).
Variable pay such as bonuses and commissions, which also include a super component.
Financial benefits, such as having a company supplied vehicle for personal use, which may attract Fringe Benefit Tax.
Employee share schemes or stock options, which attract other taxes in the longer term.
Understanding fixed take home pay (use this calculator to work it out) is critical – especially for those with variable pay components.
Salary Negotiation Question 2: What are the Variable Components?
The degree to which you question variable remuneration will vary – your goal is to gain confidence that it will be paid. Companies can set unrealistic targets and employees are often offered bonuses against targets which they can do little to influence.
Questioning performance bonuses
Is the bonus paid on personal or company performance (or a mix of both)?
What are the targets and metrics?
Is there a sliding scale or partial payment if the target is almost met?
Who does the bonus apply to / who shares the same targets?
How long has this approach been used and is the bonus typically paid?
Questioning commission structures
Commission structures should be easy to understand, with potential earnings that are realistic and achievable. Be wary of factors beyond your control such as the quality of the product or service you're expected to sell and who else you may have to depend on to close deals. If plans are difficult to understand, or you have concerns, you need specialist advice. Negotiating bespoke agreements and dealing with small or new companies is not for the novices. Get help, or at least a second opinion, before you sign.
Some good questions for any arrangement are:
Is this a standard arrangement for everyone in this role/team?
What is the typical performance expected once someone is capable in the role?
What are the products and services, and exactly how are the targets measured?
Salary Negotiation Question 3: Can I Get it in Writing?
People make mistakes and in most organisations, internal processes and approvals are required for formal offers. It's not common but hiring managers can quote figures early in a process, only to be overruled before a formal offer. Numbers have been put forward as "excluding super" when in fact they don't. Details about any variable components should always be recorded clearly.
Getting it in writing removes ambiguity, and shows they're serious by qualifying all preceding discussions.
Salary Negotiation Question 4: Do You Offer Other Benefits?
There are amazing benefits on offer with some employers. Find out what's available before you nail down your final package. From mobile phones, internet connections, discounted products and services, company vehicles, through to purchasing more annual leave – there is a range of perks to consider.
Salary packaging is a powerful tool to reduce the amount of tax you pay – great for high-income earners. Essential household expenses such as vehicles, car-parking, transport, or health insurance can effectively become tax-free – savings can be worth thousands.
After you assess all the benefits on offer, you may be willing to accept a lower base salary, giving you valuable flexibility when negotiating the final package.
Salary Negotiation Question 5: How Will Changes to Remuneration be Managed?
Your goal here is to understand how the company handles remuneration increases and gain confidence that you'll be treated fairly – especially if you expect to progress quickly in your career.
If you think the company has a rigid and constrained approach to pay increases, you should negotiate harder for your starting salary.
If you're lucky enough to be given a break in a new field or role with a chance to accelerate your professional development, it makes perfect sense to accept a lower salary. Unfortunately what can happen is eventually you find yourself being paid well below your peers and market rates. Companies lose many talented young employees due to a lack of flexibility in adjusting remuneration – an employee's loyalty is played off against their desire to be paid fairly for their contribution. Try and talk to people who have worked at the company and get a sense for how you might be treated in the future. There is no generic advice for this situation, but there certainly are experts who can help – getting a career coach to help can pay big dividends.
Conclusion
It's worth making the effort in your pay negotiations, it can make a big difference over the years, especially when typical pay review cycles can only yield a small (2%-3%) increase, year-on-year. When handled professionally, your new employer will respect you more for working to land the best deal. Just find the right balance between being forthright, reasonable and realistic.
Learn How To Master Job Interviews
At CV Writers, we have multiple career coaching options tailored to your needs. Want to land that dream job? Chat with us!